Where and how to park a rental car in Budapest
Budapest is one of the most beautiful cities of Europe. You can visit this beautiful city, having arrived in Budapest Ferenc Liszt International Airport and received a rental car. Also, you can receive in at the door of your hotel.

However, there is a question. Where you have to park a car? Travelers who are planning to visit Budapest by car during one or two days also concern about this question. Let's consider all options.

But before going this, let's divide the concept "parking of the car" on short-term and long-term ones.

Short-term car parking.
It will be interesting to people who want to leave the car for a day. It means that, for example, you can arrive in the morning, go sightseeing and leave Budapest in the evening.

Car parking in the downtown.
In Budapest, as well as in many other European cities, car parking in the downtown is paid. It is necessary to pay for such parking in special automatic machines which accept coins. In this case you need to provide yourself with coins. Usually, the cost of parking fluctuates from 150 to 450 forints. For example, the cost for an hour of parking is 440 forints in this automatic machine. You can park here no more than three hours since 8 a.m. till 8 p.m.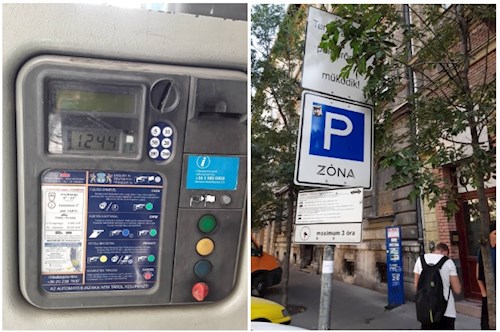 Payment in this automatic machine is absolutely standard. You put coins into the automatic machine. At the beginning the automatic machine shows time. While swallowing coins, the automatic machine shows the time of termination of the paid parking. Usually, fee-based time lasts from 8 a.m. till 18:00 (20.00) p.m. Therefore, if you have thrown more money, the automatic machine will count morning fee-based time. However, you should remember that usually you mustn't stay on parking for more than 2-4 hours in the downtown.

Car parking on the fee-based parkings.
These are usual fee-based parkings. You can find the list of such parkings according to the districts in Hungarian at http://www.holparkoljak.hu/ here. Google Translator will be enough to understand how it works.

P+R parking (park and ride).
According to our opinion, it is an ideal option of fee-based and cheap parking in Budapest. Write Budapest p+r parking on Google Maps in a search line. Such places as "park and go" are usually located near metro stations and bus routes. Such parkings suggest locals and city visitors to leave a vehicle and to change it into the subway or other public transport. It is made in order to unload the roads of the megalopolis a little. A day of such parking isn't more than two euros. You don't need to look for the place in the center or to move a car into another place each two hours.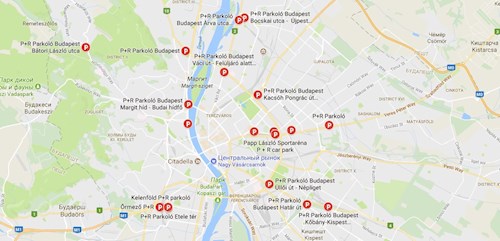 Long-term parking.
As the article is made for tourists, we mean that "long-term" parking will be more than for one day. You can leave a car in a garage of your hotel for a fee or search for a nearby parking on the website http://www.holparkoljak.hu/. However there are also other free options. So:
- it is possible to park a car on any paid parking from 6 (8) p.m. on Friday evening till 8:00 a.m. on Monday
- it is possible to park on streets, but not in the downtown for free.
- it is possible to leave a car free of charge (also at night) on the parking of ARENA PLAZA shopping center, which is situated to the address: Budapest, Kerepesi út 9

With this information it will be easier for you to orient in Budapest on the rented car. Make a reservation of a car right now.